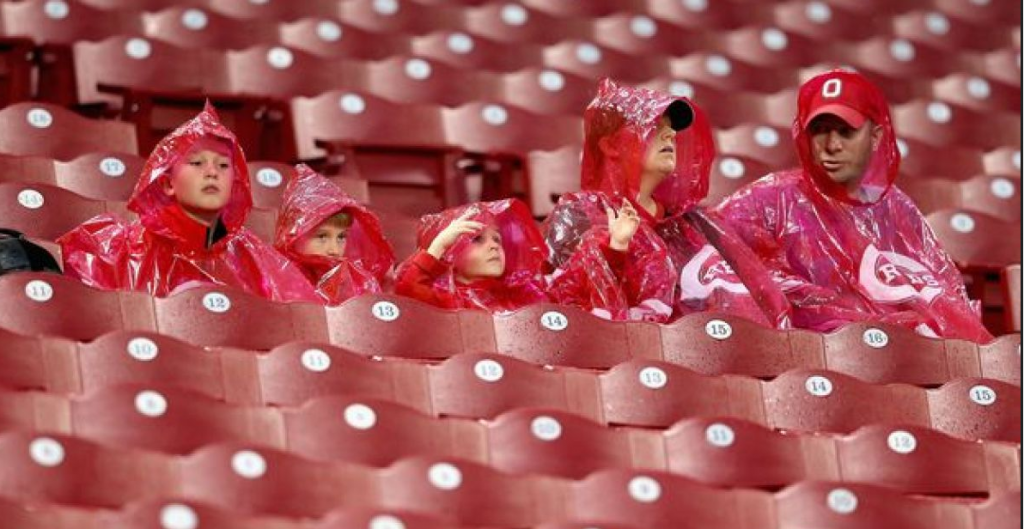 The Cincinnati Reds got rained out in the eighth inning last night, although you probably could have surprised the umpiring crew with that statement. Seemed like they just wanted to keep the party going. A quick glance at some Youtube videos showed the Gods tossing everything but the kitchen sink on the field in an effort to get the umps to pull their heads out of their echo chambers. I even saw some fancy silverware flying.
This ain't football, umps. This ain't Rugby. This is baseball. We don't deal with mild spring rains here. No Sir. They offend our delicate sensibilities.
In reality, though, would you want to stand in against a professional major league chuck-flinger, who is capable of throwing projectiles in your direction at 100+mph when said chuck-flinger says the rain is so bad he can't hold onto the ball?
Not me, bubba.
I'd rather be at the bottom of a mud pit dogpile scrum in a mid-November NFL game where the most exciting thing is the torrential sleet and downpour. At least there, you can make hand signals at the 350lb lineman currently crushing your chest cavity while your helmet fills with water. Death is no surprise in that scenario. And who knows? Maybe that guy will move and let you roll the dice again on the next play? Happens all the time.
A pitcher loses control of his fastball in the rain and your liable to wake up in the hospital three days later doing your best Dan Crenshaw impersonation. A permanent one. Then, all you'd have left is a career in piracy or politics (but I repeat myself), and what kind of fun is that?
The game resumes this evening, and let's hope the Gods have found other things with which to distract themselves.